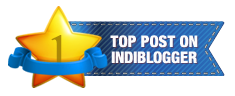 The International Author's Day gives me a splendid opportunity to thank the author who has been my guiding light, my savior and my teacher since many years. I really wonder how his books exactly had those things written that I needed to hear, that I needed to learn, that I needed to grow.
Well, I am talking about none other than the international best selling author, Paulo Coelho who has shaped my life hugely through his books. I have 11 of his books with me and some of his books, I have read more than thrice.
I was wandering aimlessly in my life in 2011 when I came across this book called Alchemist by Paulo Coelho. It was written on the book cover that it is a fable about following your dream. I got attracted to these words and started reading the book, one lazy weekend. That was my first meeting with this author who taught me the importance of dreams. He helped me realize the deepest desire of my heart. Writing a book was a dream residing in the innermost chamber of my heart. But, reading Alchemist gave wings to that dream and taught me that if a person wants something from the core of his/her heart, the entire universe conspires to bring it to him/her. Soon, I realized my true calling when I started chasing my dreams.
I got inclined to spirituality, started believing in souls and soulmates in a wider context by reading Brida. Manuscript of Accra is one book which holds all the answers to the questions asked by a restless heart. I return to this book whenever I feel clueless.
When I read By the side of River Piedra I sat Down and wept, I learnt how to see the amazing in everyday. Veronika Decides to Die made me ask myself if life is always worth living and what is the importance to live life gracefully. Eleven Minutes
made me dive into an unflinching exploration where the author has showed that sex and spirituality are closely related.
If I start talking about all his books, then this post will be almost 5K words long. So, instead, I would like to share some inspiring and profound quotes of Paulo Coelho.
"So I love you because the entire universe conspired to help me find you" ~ Alchemist
"The two hardest tests on the spiritual world are the patience to wait for the right moment and the courage not to be disappointed with what we encounter" ~ Veronika Decides to Die
"No one loses anyone because no one owns anyone. That is the true experience of freedom: having the most important thing in the world without owning it" ~Eleven Minutes
"Love is not to be found in someone else, but in ourselves; we simply awaken it. But in order to do that, we need the other person. The universe only makes sense when we have someone to share our feelings with."~Eleven Minutes
"Waiting is painful. Forgetting is painful. But not knowing which to do is the worst kind of suffering." ~ By the side of river piedra I sat down and wept.
"The secret of life is to fall seven times and get up eight times." ~Alchemist
"Many times the wrong train took me to the right place" ~ Aleph
I would like to thank Paulo Coelho for writing such masterpieces and enlightening me with his books.
Okay, now after thanking my favorite author in International Author's Day, I would like to thank my readers for supporting my work always. I have a giveaway for my readers ~ a signed copy of my book.
S
he is a successful author, a loving wife and the world's best mom. Her doctor husband dotes on her, her teenage daughter idolizes her and her readers yearn for her writing. Shouldn't all that respect and love make her happy?
Yet, she is devoid of inner peace.
In the wee hours of the night, her slumber is disturbed by horrifying nightmares. All her harmony is abducted and lost amidst the bunch of hidden letters kept in her cupboard. Those letters were written long back by her cousin,presently a patient at a mental asylum in Kolkata.
Haunted by her inner demons and tired by the long-time secrecy, she decides to put end to her misery by surrendering to her husband and daughter, The Hidden Letters. . .
Will she lose her husband's love and daughter's respect? Can she forgive herself for her own selfishness which rendered her cousin's fate malignant?
If you want a signed copy of my latest book The Hidden Letters, then do participate in this Rafflecopter Giveaway. You need to follow some simple steps and it will take just a minute. In case you have already read the book, then do spread the word so that your friends can participate in it. You can check the reviews of the book in Goodreads
a Rafflecopter giveaway
Please Note: The giveaway is open only for the residents of India. If you are a winner, then you will get a mail from me on 19th or 20th July. All the best! :)
It was my absolute pleasure to be a part of the International Author's Day blog hop hosted by Debdatta Dasgupta Sahay.